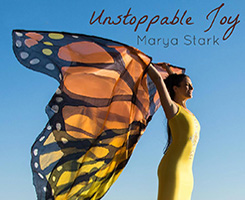 Marya Stark
In the space between art and persona there is magic. Artists who work their craft for decades may find it on occasion. Marya Stark lives there. Drawing from influences as diverse as Baroque classical, Broadway, pop and folk, Marya Stark crafts a sound that is wholly original. She creates the way she breathes; without choice or hesitation. The comparisons are many: Regina Spektor; Tori Amos; Kate Bush; Sarah Slean, Fiona Apple; but there is some indefinable quality about Marya Stark that makes her a part of that family yet wholly distinct.
Marya began writing songs at an early age. By the age of 14, songwriting was a serious business; Marya began to catalogue her songs chronologically. At first it was the classic teenage sanctuary from heartbreak, but songwriting quickly became a metaphysical way of relating to and understanding the world around her. This method of connecting with creation and interpretation eventually lead her to the study of music therapy. The path opened new doors of understanding for Stark, empowering both her mind and her muse: The give and take between the life of a professional music therapist and a professional songwriter has synergized both pursuits.
With her forthcoming single, "Unstoppable Joy", Marya Stark embraces the joy of the universe as a palpable force to be enjoyed. The unbridled energy and light of the song are infectious, and open up new aspects of her personality as a songwriter. Her recent award-winning album, The Garden, has a greater depth. Marya relates experiences of love lost and found, and of the rites of passage into adulthood. Marya's first album, Fork in the Road, is a concept album full or archetypes and forms, evolving into an education curriculum. The classical influenced art-pop sound Stark currently prefers makes perfect sense. She loves grand musical gestures and subtle symbolism, but it's difficult to carve out a single niche for her.
You see, Marya Stark hears the rhythms of the world around her. She sees the notes in sunlight and she hears the time signatures in passing moments. The collisions and collusions of personal relationships are like the movements of a symphony for her, and whatever she hears might inspire Marya to song. It is this same impetuous nature that allows Marya to be involved in multiple projects at once.
One such project is the soon to be completed independent film, Out Of the Silence. Begun by Marya and classmate/friend Tessa Shields for their Master's thesis, Out Of the Silence has grown from a 23 minute film into a full length feature with the help of a Kickstarter campaign and a lot of hard work. The movie explores the concept and practice of sound healing from both an intellectual and a musical sense, and seeks to provide a better understanding of the process through interviews with experts in the field. Another project is her new musical duo with bardic compadre Travis Puntarelli. The two have joined forces as 'Stark Levity,' creating compelling, silly, outrageous storytelling and vaudevillian shows, calling upon the folklore ways of timeless minstrels.
At the end of the day, Marya Stark is at her happiest when she is creating. Whether it's a new song to be shared from the stage or the studio, or whether it's a song that opens the senses of a person to the world around them, Marya Stark is at home in the muse.